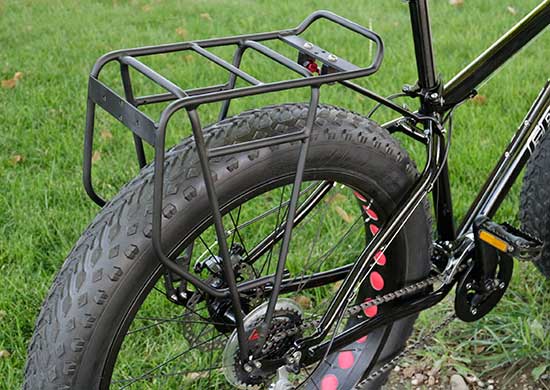 IndustryOutsider.com recently featured the Axiom Fatliner Rack in part three of their Winter Fat Bike Project. Constructed from durable and lightweight hand-welded aluminum, the Fatliner rear rack is designed specifically for fat bikes with rear dropouts spaced 170 – 190 mm apart, and offers tire clearance up to 26 x 5″.
"…Cold weather riding usually means adding or removing layers, so you need a place to store your clothes." writes editor Brian Merin. "Suddenly, the rack not only makes sense, it seems more like another "must-have" piece of gear."
Part of Axiom's versatile Streamliner rack series, the Fatliner features unique mounting technology to fit a wide range of frames styles. Sweptback feet provide clearance for disc brakes and mount to either the dropout eyelets or quick-release skewer, while the caliper bridge mount and adjustable Versalock arms provide options for securing the rack to seat stays.
"I started at the dropouts, and attached the lower mounts. Once they were snug, I was able to position the rack and found the 280mm Versalock arms gave me just enough room for a perfect fit."
Read more about Industry Outsider's Winter Fat Bike Project here.
Tags: fat bike, rack, Streamliner