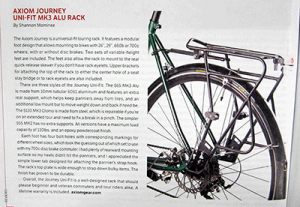 Bicycle Times gear reviewer Shannon Mominee recently mounted an Axiom Journey Uni-Fit MK3 rear rack to her bike and thought it was a great fit, in more ways than one.
Les porte-bagages arrière Journey s'adaptent à n'importe quel vélo de mille et une façons
Shannon Miminee, chroniqueuse d'équipement du Bicycle Times, a tout récemment installé un porte-bagages arrière Journey Uni-Fit MK3 d'Axiom sur son vélo. Le résultat était très satisfaisant selon elle, à plus d'un titre.  — Lire plus en français.
« The Axiom Journey is a universal-fit touring rack. It features a modular foot design that allows mounting to bikes with 26", 29", 650B or 700c wheels, with or without disc brakes. Two sets of variable-height feet are included. The feet also allow the rack to mount to the rear quick-release skewer if you don't have rack eyelets. Upper brackets for attaching the top of the rack to either the center hole of a seat stay bridge or to rack eyelets are also included.
« There are three styles of the Journey Uni-Fit. The $65 MK3 Alu is made from 10mm tubular 6061 aluminum and features an extra rear support, which helps keep panniers away from tires, and an additional low mount bar to move weight down and back if need be. The $120 MK3 Cromo is made from steel, which is repairable if you're on an extended tour and need to fix a break in a pinch. The simpler $55 MK2 has no extra supports. All versions have a maximum load capacity of 110lbs, and an epoxy powercoat finish.
« Each foot has four bolt holes with corresponding markings for different wheel sizes, which took the guessing out of which set to use with my 700c disc brake commuter. I had plenty of rearward mounting surface so my heels didn't hit the panniers, and I appreciated the simple lower tab designed for attaching the pannier's strap hook. The rack's top plate is wide enough to strap down bulky items. The finish has proven to be durable.
« Overall, the Journey Uni-Fit is a well-designed rack that should please beginner and veteran commuters alike. A lifetime warranty is included. axiomgear.com. »
See for yourself. Axiom Performance Gear expert staffer Aaron compares the features and benefits of each of the three Journey Uni-Fit bike racks (2:34):
Learn more about the Axiom Performance Gear Journey Uni-Fit MK3 Aluminum bike rack ($65*), Journey Uni-Fit MK3 Chromo bike rack ($120*), and the Journey Uni-Fit MK2 bike rack ($55*). Axiom Gear cycling racks, carriers, and cargo accessories are available from selected bike shops and sport dealers around the world. Every Axiom product includes a lifetime guarantee.
* Manufacturer's suggested retail price, US currency.
Tags: Bicycle Times, cargo, carrier, Commuting, MK2, MK3, paniers, porte-bagages, rack, rear, sacoches, velo