The December issue of Cycling Active out of the UK is chock-full of Axiom Gear!
In this month's "Tried & Tested: Touring Bikes" article, three different bikes were equipped with premium touring bags and taken out on the road. Axiom's Modular Grand Tour 45 pannier bags and Randonnee Bar 10 handlebar bag emerged as the "Bags of Choice."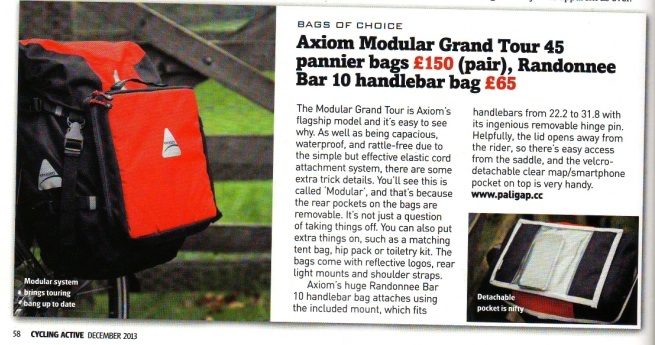 The Annihilateair G200A floor pump gets a shout out as a top pick for Christmas:
Whether you're looking for that perfect gift for the special cyclist in your life, or trying to kit out your bike for your next big adventure, Axiom Performance Gear has your back!
Tags: Annihilateair G200A, Bicycle Pumps, Bicycle Touring, floor pump, Handlebar Bag, Modular GrandTour, Panniers, Randonnee Bar 10