Independent bike dealers in the U.K. planning to attend the Core Bike show in January 2012 got a sneak peak at Axiom products recently in bikebiz.com: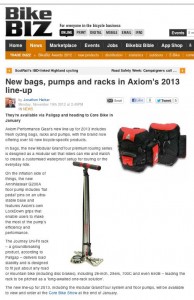 "Axiom Performance Gear's new line-up for 2013 includes fresh cycling bags, racks and pumps, with the brand now offering over 50 new bicycle-specific products.
"In bags, the new Modular GrandTour premium touring series is designed as a modular set that riders can mix and match to create a customized waterproof setup for touring or the everyday ride.
"On the inflation side of things, the new Annihilateair G200A floor pump includes 'flat pedal' pins on an ultra-stable base and features Axiom's own LockDown grips that enable users to make the most of the pump's efficiency and performance.
"The Journey Uni-Fit rack – a groundbreaking product, according to Paligap – delivers load stability and is designed to fit just about any road or mountain bike (including disc brakes), including 26-inch, 29ers, 700C and even 650B – leading the rack to be pitched as a 'long-awaited one-rack solution'."
Browse Axiom bags, pumps, racks and other Axiom cycling gear.
Tags: Axiom Bags, Axiom Pumps, Axiom Racks, Pannier, Pannier Racks, Panniers